Since early 2016, it has been 2B's
privilege
to collaborate with '
Slow The Flow: Calderdale
' and the
SOURCE
partnership, working to implement Natural Flood Management (NFM) and Sustainable Drainage Systems (SuDS) in the Calder Valley.
It is, therefore, about time I wrote something here about the experience!
This post looks at the group, how it has evolved and how we work with others. See
post 2
for more detail on the NFM and SuDS projects we have been involved with to date.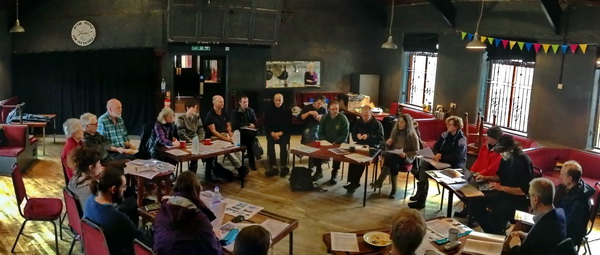 Image: One of the early 2016 SOURCE partner meetings in Hebden Bridge - held upstairs because downstairs was flooded!
From the ashes of disaster...
In January
2016, following the
Boxing Day Flood
which devastated the Calder Valley, there was a wonderful community response to the flooding and a great many people with the desire to do something to help, which has continued ever since. I attended several public meetings
,
about flooding and flood resilience, and was pleased to discover that I was far from alone in being a local built environment professional advocating NFM and SuDS. I connected with people at physical meetings and online, mainly through
LinkedIn
, and we decided to set up a new community-led group in order to try and help.
Two Hats
I have found myself in an interesting position. I was already a
Chartered Landscape Architect
with a professional interest in Sustainable Drainage Systems (
SuDS
) and NFM. Suddenly, when my house in Mytholmroyd was flooded, I also became
a member of a flooded community, trying to figure out the best ways in which to pick itself back up after a 'natural' disaster.
The SOURCE partnership
The SOURCE partnership, which was already in existence before the 2015 flooding, brings together anyone with an active interest in NFM in the Upper Calder Valley. The Slow the Flow group quickly made contact with the SOURCE group and we have been working together since then. It is a great support and ideas network
,
and a useful way for everyone to stay informed about what others are doing and planning, so that best use is made of available resources and duplication is avoided. The work that the SOURCE partnership was already doing, together with local knowledge of both landscape and appropriate people to contact, has been an invaluable help to ensure that the Slow The Flow group hit the ground running.
Slow The Flow : Calderdale
Slow The Flow: Calderdale (STF:C) has evolved over the past year. It has been a learning-on-the-job process, not without its hiccups, but we have settled down now into a format that is working well. We have a number of projects that are progressing well (see Blog 2) and all the necessary 'dull paperwork' has been successfully set up. Management and communications is working well, we have a constitution, bank account, insurances etc. We have a popular
website
, large
social media
following, and now even host the
SOURCE
pages as well.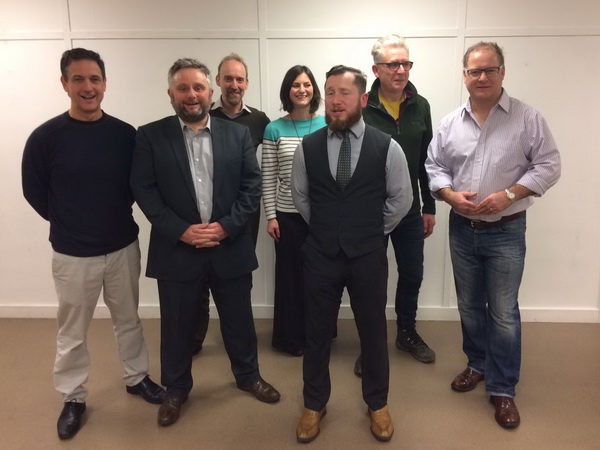 Image: 'Slow The Flow: Calderdale' Management Team
Our core
management team
consists of a great mix of intelligent, able, proactive and professional individuals, including Engineers and Landscape Architects together with non-built environment professionals and academics, with skills such as management, logistics, publicity etc. We meet approximately monthly, but make good use of digital communications between times. It is a pleasure to work with such proactive and interesting people - and, although it is an additional time pressure on our busy lives, we enjoy ourselves and believe that it is for a good cause!
STF:C also holds public meetings, approximately every 6 weeks, where we can communicate about what we are trying to do and why, and encourage others to get involved. These have been very well attended, we are lucky to be operating in a very proactive and caring community. Volunteers to help with our
river survey
work, and building 'log jam' leaky dams (when we start), have been wonderfully forthcoming.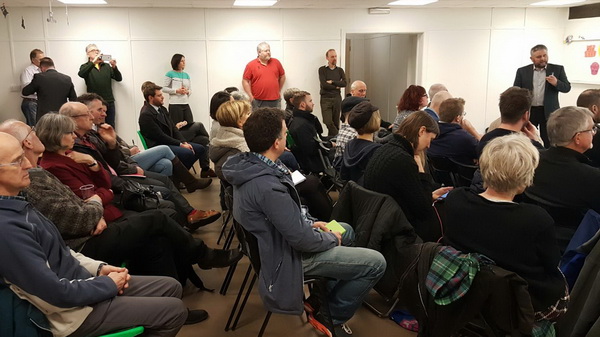 Image: 'Slow The Flow: Calderdale' Public Meeting
We are still a young organisation, but have achieved a lot already. In less than a year, we have collaborated with public bodies to drive the NFM agenda in Calderdale, secured funding to implement physical interventions, and made inroads into the provision of information to enable the public to engage with NFM and SuDS.
Teamwork and Collaboration
Slow The Flow: Calderdale is working with the Environment Agency (
EA
), Calderdale Council (
CC
), National Trust (
NT
), Yorkshire Water (
YW
) and others, to contribute to the evolving
Calderdale Flood Action Plan
. As a group of local professionals, we have found that they were open to working with STF:C and keen to use our offered expertise.
Trailblazers
STF:C
has made friends with groups engaged in similar work in
Stroud
and
Pickering
. These groups had begun to pave the way for STF:C
to work with public bodies on NFM, and we are very grateful for their good example. We certainly would not have got so far, so quickly, were it not for their guidance. Colleagues in Stroud tell us that it took them around 8 years to get to a similar point to where STF:C is today. Both groups have been generous in offering their time, knowledge, and tours of their projects.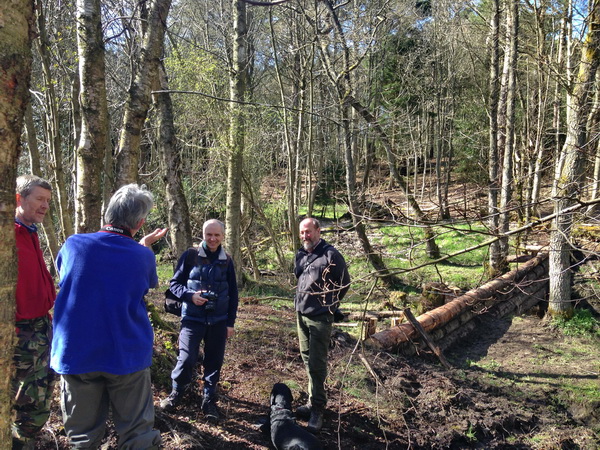 Image: 2B exploring the NFM interventions, including 'woody leaky dams' at Pickering
A suite of measures
All flood alleviation measures are needed in our valley, including rural NFM, urban SuDS, upland management, property-level resilience, and engineered walls.
Individually, none of these measures can make a large enough difference to prevent flooding entirely and, perhaps, even together they still cannot. But they can prevent some smaller-scale floods
,
and, in larger flood events, can help reduce flood water depth and improve flood water quality. The cumulative effect of many smaller NFM and SuDS interventions, combined with other flood resilience measures, can make a big difference.
Proud to be involved
2B is delighted to be able to practice what we preach, and support Natural Flood Management in a meaningful 'bottom-up' way - as well, of course, as including
SuDS in our schemes
wherever appropriate.
I am very proud to be a part of Slow The Flow: Calderdale, as both an affected resident and a Landscape Architect. I believe we can and will make a real difference to the severity of future flood events in Calderdale - but there is a lot still to do.
Find out more about how you can help, or follow STF:C
on social media, at
www.SlowTheFlow.net
By
Amanda McDermott CMLI