2B has supported my role as Trustee at Slow The Flow (Calderdale) from its early days, following the Boxing Day 2015 flood event (5 years ago, time flies!)
Here are a few of the things we've been up to this year:
Short Films
Slow The Flow (STF) ran a successful online launch of our new short films '
Slowing The Flow Together
', with well over 200 people joining us for the premiere and Q+A from across the country. The films are available to watch online, and will also be used in a new exhibition at Gibson Mill, interpreting our work for the public in the visitor centre at the heart of Hardcastle Crags.
Look out for my baby daughter (Sophie)'s cameo in the 'SuDS' section…
Best Marketing Award
STF has taken the opportunity this year to focus on our online communications. I am delighted to be part of the excellent Communications sub-group team; we have recently won the 'Best Marketing' award at the respected 'Calderdale Community Spirit Awards 2020', for our work on the '
You Can Volunteer Your Land'
campaign, which has encouraged a lot of local landowners to get in touch and think about how to incorporate NFM on their land.
Queen's Award for Voluntary Service (QAVS) nomination
I had a lovely (socially distanced) morning out at
Hardcastle Crags NT,
as one of the team that took the QAVS assessors to see our work there, and answer their questions about how we engage with the community. Whether STF is awarded the QAVS or not, it is gratifying to be nominated by local people, and it was rewarding to spend a day reflecting on the successes of our work.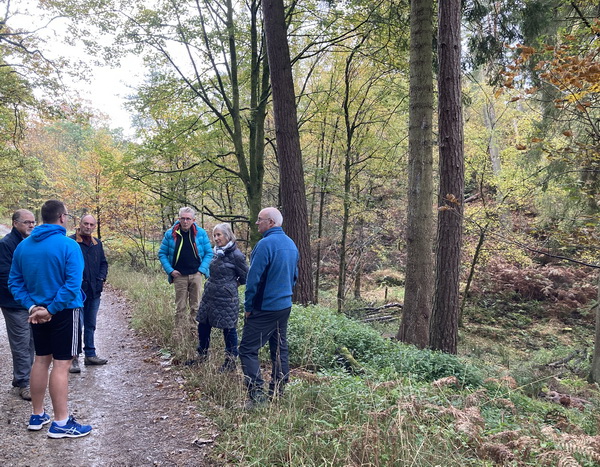 Artist In Residence
Slow The Flow has appointed our first 'Artist In Residence', which has been a great success; it's been really interesting to see how Anne interprets our work, and some of the artwork she has produced is stunning – take a look at the webpage
http://slowtheflow.net/artist-in-residence/
. We are looking forward to the exhibition at Hebden Bridge Town Hall (where you can see the
rain garden planters
!) in the new year.
Registered Charity
Slow The Flow has taken some of the time afforded to us in 2020 (by sadly cancelled volunteer days, and Zoom meetings to replace face-to-face) to get our house in order. There has been a lot of re-organising of our
processes and governance
; the jobs that we'd been putting off, but extremely helpful, relevant, and good CPD! We are very pleased that one of the consequences of this hard work has been official recognition by the charity commission.
Mytholmroyd Community Centre Master Plan
It is always a pleasure when voluntary and professional worlds collide; 2B has helped to deliver a fantastic sustainable
master plan
for the community centre, I look forward to seeing the project progress! Keep up to date by following the
2B
and
STF blogs
...
By
Amanda McDermott CMLI