Natural Flood Management and Sustainable Drainage in East Yorkshire
When 2B's house and office was affected by surface water flooding in late 2019, we realised it was time to re-start an idea that we originally had following the June 2007 floods. The solution brings together all of our landscape architectural training and experience: landscape-scale Catchment-based Natural Flood Management (NFM), implemented collaboratively in partnership with the key flood risk agencies, local/parish authorities and with local people.
Having supported our colleague Amanda in the establishment and development of Slow The Flow in Calderdale in 2016, it was natural that we should also adopt a similar name. Why? Because it says, in five words, what we intend to do and where we intend to do it...
"West Wolds - Slow The Flow"
Although we are four years behind our Pennine-based colleagues, we already have an excellent partnership in the making: five parish councils, East Riding Ward Councillors, East Riding Flood Risk Team, the Environment Agency, East Yorkshire Rivers Trust and Yorkshire Water. We are also affiliated with the Hull and East Riding Catchment Partnership (HERCP) and are working with Humber Forest.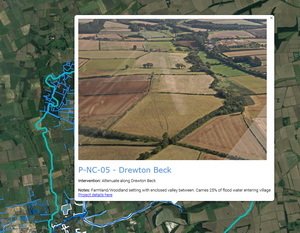 Having set out a preliminary 'proof of concept' map on the West Wolds Slow The Flow (WWSTF) website, we aim to use our GIS skills to develop a more sophisticated multi-layer mapping system of the current issues and the proposed interventions.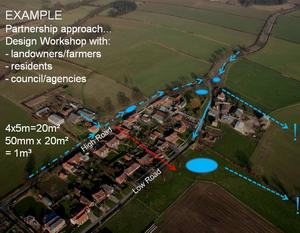 Our focus is upon using the WWSTF partnership to identify the flooding issues, discuss and agree potential solutions, and work with local residents, landowners and our partners to make changes happen. The actual work on the ground is likely to be implemented through the flood risk agencies.
For more on West Wolds Slow The Flow's work, please visit the website here https://westwoldsslowtheflow.org.uk - which, yes, does bear a remarkable similarity to this website - it uses the same template!
For more information on NFM generally, and how 2B can help, have a look at our Natural Flood Management page, and with any further queries, just drop us a line.