The AGM was poorly attended, which was disappointing considering the record number of our members who came to the lecture afterwards! We elected a new LI Yorkshire and Humber Branch committee, which Amanda is on again.
We had lectures from two of the leading contemporary planting designers - Piet Oudolf, whose work we have seen at Scampston Hall, and James Hitchmough, whose work we will be visiting at the Olympics.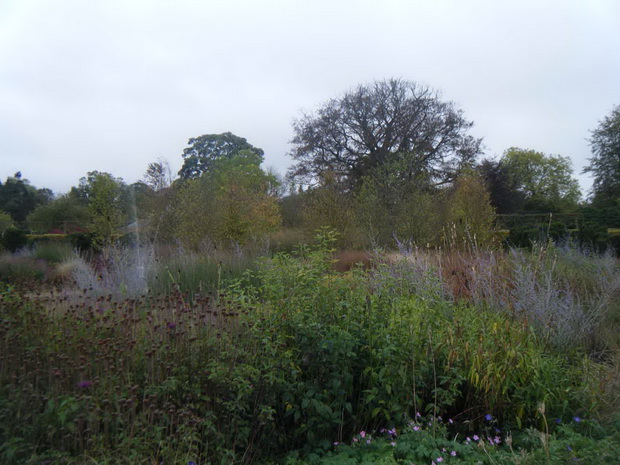 Piet-Oudolf-designed planting at Scampston - where form and structure maintain an attractive composition and wildlife haven after the colourful flowers have died.
Piet talked about the importance of working with botanists and ecologists, and questioning the traditional planting in the landscape. It was interesting to see the hand-drawn plans that he creates to convey to the contractor how to plant his schemes, and the way that they set out the patterns/shapes of swathes on the ground with coloured sand prior to planting.
He talked about considering scale, and observation of nature in order to create 'natural-looking' species mixes, rather than blocks. He also highlighted the importance of plant lifespans as a big factor in planting design.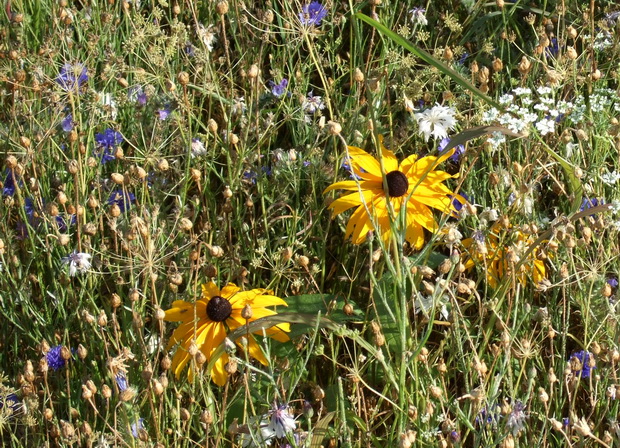 James-Hitchmough-designed low maintenance perennial meadow mix.
James Hitchmough talked about his research and work with perennial meadow seed mixes, in relation to the Olympic Park amongst other things. He highlighted the importance of collaborating with specialists, especially on projects like the Olympics, where the seed mix and management has to be perfect, e.g. it has been engineered to ensure that the plants flower in the correct 2-week window, and germination rates for each species of seed have been calculated to make sure that the correct % of species flower, not just that the correct % is in the mix.
He also stressed the importance of maintenance, as despite the low-maintenance nature of meadow planting, if the little that has to be done is not done correctly, the whole thing can fail – e.g. watering through the germination window.
We have discovered this for ourselves on projects where the planting design can be as good as anything, but having a client/maintenance contractor who understand and care can be the difference between its failure and success.