Well, the first news on this blog is that we have a Blog. Self-evident if you are reading this, but important just the same. We want to develop this into several themed areas including 2B-related news, views on landscape (could be taken many ways) and technical stuff. It deliberately doesn't look too bloggy - we wanted to keep the 2B site styling and not get the ubiquitous Wordpress blues. We found a nice simple blogging system called, strangely enough, SimpleBlog, and are looking forward to adding new stuff with it.
2B News will include project and website updates;
Landscape Views may include non-commercial work we are involved in, including the Landscape Institute Yorkshire and Humber Branch, The Yorkshire Landscape Forum, and Hull and East Yorkshire Woodlands (HEYwoods), as well as just "views of landscape";
Technical: favourite software and other stuff.
Contact us if you have any questions about what we do and we will try to provide the answers here.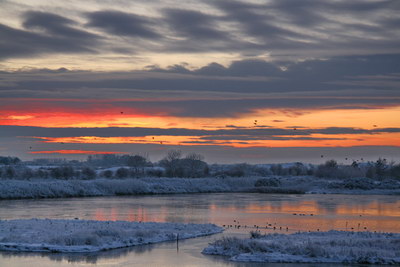 North Cave Wetlands - Winter Sunset