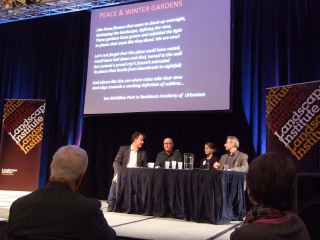 We recently had the pleasure of attending the
Landscape Institute's
annual conference, kindly hosted by
The University of Sheffield's Landscape Department.
The event, titled; 'Beauty, Function and Sustainability in an Age of Austerity', included a series of provocative talks and breakout CPD sessions inspiring excellent discussion and debate.
It was encouraging to hear speakers from a range of landscape related professions, talking passionately about landscape architecture and design. They included an environmental economist, landscape scientists and academics, to name a few. It was a great opportunity to get away from our desks and be inspired by the company of other Landscape Architects; we are delighted that it is intended as an annual event!
Day One - Speakers
The event was introduced by
Noel Farrer
(LI President) who led the first series of talks addressing the theme of; 'What constitutes beauty?'
Professor Brian Evans
(Glasgow School of Art)
looked at beauty through the sublime and picturesque, acknowledging the innate desire for beautiful landscapes within all of us. He explored the idea that we subliminally consider fruitful landscapes to be positive through their provision of food, shelter and safety.
Claire Rishbeth
(The University of Sheffield), focused on beauty from an individual's perspective and the external influences on personal considerations of beauty. She emphasised our ever diversifying societies and the numerous ethnicities that use our public spaces. This was an excellent and exciting topic that drew attention to the increasing variety of cultures enriching our environment.
Nigel Dunnett
(The University of Sheffield) argued that:
"Beauty should be a by-product of tackling big issues"
We wholeheartedly agree with his observations that, whilst beauty is an important and integral part of what we do as Landscape Architects, it cannot be the driving force for justification of the profession, particularly in times of austerity.
The primary importance, and most tangible benefit, of landscape professionals to clients is in the economic, functional and financial. Nigel advocated that as a profession we must ensure that society is aware of the multiple rewards we can bring to projects. We are often too modest about the real positive effects that Landscape Architecture can have on an improved
budget, health and wellbeing, timescales, sustainability, market value, biodiversity, flood prevention, social issues, air quality,
etc., etc., in addition to an improved aesthetic.
Other inspiring talks included
Caroline Julian (ResPublica)
who spoke on the provocative topic of rights to beauty, and the concept of
Natural Capital
. She placed emphasis on the need for a long-term cultural shift in the perception of who has a right to beautiful areas. By broadening the field for investment, the benefits of well designed landscapes can be spread to less wealthy areas, promoting health, safety and economic growth within all communities, equally.
The final session focused on the question; 'What role does beauty play in planning, designing and reviewing landscape?' This included a talk from
Clare Devine (Design Council CABE)
followed by insights into the significance and influence of beauty in the work of
Natural England
and
Historic England
.
We also heard Andrew Grant speak on Singapore's Gardens by the Bay, and the new master plan for The University of Sheffield.
David Caulfield (
Sheffield City Council
) wrapped up the talks with a rounded summary of the City's inspiring vision for its public realm, echoing the 'integrated beauty' sentiment:
"We didn't create [The Peace Gardens] for beauty's sake – we did it to create a setting for investment"
This poem David shared nicely demonstrates what Sheffield understands: that the public realm can become one of a local authority's
'most important assets
'.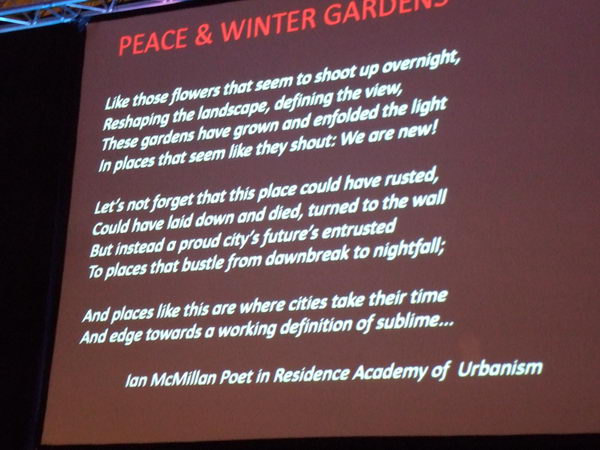 Image: Poem 'Peace and Winter Garden' by
Ian McMillan
The day finished with a panel discussion focussing on the important topic of 'Women in the built environment'. It was heartening to hear positive experiences as well as the negative, with equal support from both the male and female members of the audience.
It was excellent to spend time discussing this as a topical issue, and encouraging to reflect that whilst in Landscape Architecture there are areas for improvement, in terms of the balance of pay scales and top level jobs, we have one of the better gender balances amongst the built environment professions - just look at
2B
!
Day Two - Sheffield site visits
The site visit options were all so appealing it took us a long time to decide, and we had to split up!
'Grey to Green' retrofit SuDS scheme
Amanda and Bill attended the
Grey to Green
tour, which the team tell us will be the largest retrofit
SuDS
project in Europe once complete.
Sheffield City Council has been working on the project in collaboration with The University of Sheffield's
Landscape Department
and
Green Estate
. It is an impressive precedent; we hope that it will inspire more local authorities to recognise the value of investment in SuDS to achieve multiple benefits.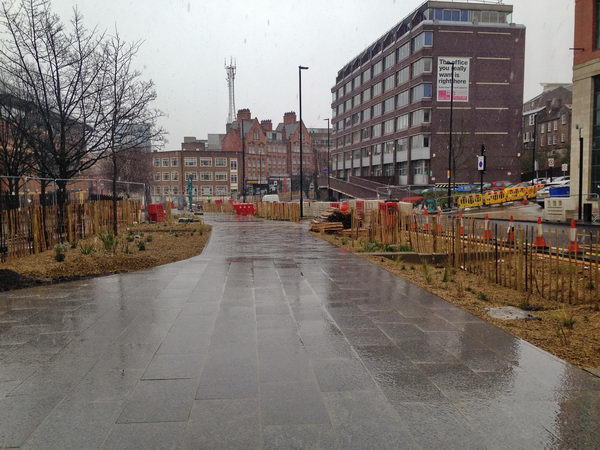 Image: Swales and paving under construction at Europe's largest retrofit urban SuDS project in Sheffield
The extensive regeneration project transforms redundant 'grey' roads into attractive new 'green' linear public spaces, improving accessibility, amenity and aesthetic as well as integrating sustainable drainage solutions to help tackle Sheffield's flooding problems.
Sheffield General Cemetery
Liz went on a tour of the
Sheffield General Cemetery
in Sharrow. The Victorian cemetery is a distinctive Grade II Listed Heritage Site and nature reserve within Sheffield and is valued by all members of the public.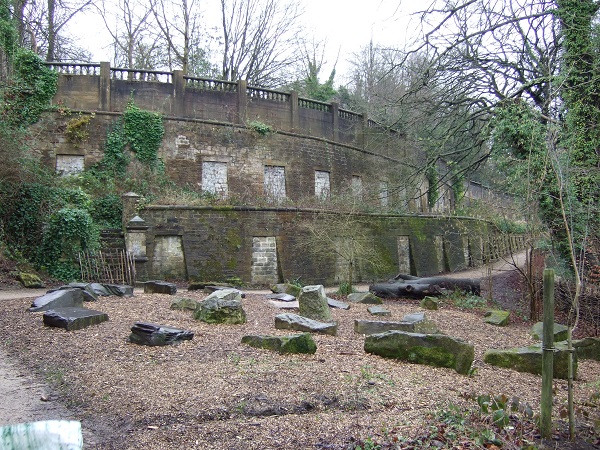 Image: Sheffield General Cemetery
The Cemetery is run by a local community group,
The Sheffield General Cemetery Trust
, who are dedicated to the restoration and preservation of the heritage site. The Trust has achieved funding for a Stage 1 HLF project to look at the enhancement and restoration of the existing landscape. Whilst the Cemetery provides the main green space in a densely populated area, it does not have the same status as other open, green spaces in the city and is not well known. One of the aims of the restoration project is to heighten public awareness of the cemetery as an amenity and to encourage more visitors to discover and explore a safer and more accessible environment.
It will be interesting to re-visit this site in years to come and witness the restoration process first hand.
Sheffield Botanical Gardens
Sani attended the tour of
The Sheffield Botanical Gardens
which has an excellent and rich history. It is another highly valued Grade II listed heritage site with alluring glass pavilions, attracting thousands of people to the gardens. The Gardens are in a densely populated area of Sheffield in close proximity to both Sheffield Hallam University and The University of Sheffield.
The gardens are highly valued as a 'green lung' amenity. The latest project within them is an education centre; with four classrooms, an office and library for local school children, to encourage younger generations to take an interest in their environment and local history.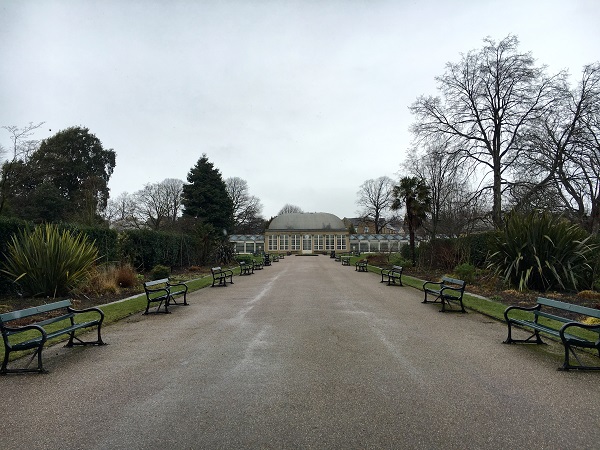 Image: Sheffield Botanical Gardens
The break out CPD sessions in the afternoon were a good chance for compact learning and focussed on specific topics in more detail. This encouraged further engaging conversation with fellow professionals, proving a good way to socialise and learn simultaneously. (Thankfully there was plenty of tea and biscuits on hand to keep our brains wired!)
For information on the sessions provided please click
here.
The conference ended with a drinks reception hosted by the University of Sheffield's Landscape Department in the Arts Tower. It was a lovely setting to round up the two days and catch up with new and old acquaintances. We are very grateful to the members of the LI Secretariat and volunteers who worked behind the scenes to organise the event.
Thank you and we look forward to the next one!
By
Sani Lama