About a year ago, I wrote a blog about delving into the world of Landscape Architecture from my home territory of Geography (
Synergies with Geography
). Now we're at the end of 2019, I have decided to review what has happened in the whirlwind of the first year of my career as a Landscape Architect.
Summer 2018 - My last summer of 'freedom'
Summer 2018, my last summer of the (much unappreciated at the time) endless number of weeks of 'freedom' before official 'adult' life began. In July, I graduated from the
University of Hull
with a first in BA Geography, winning the Sally Eden Prize, which is awarded to the 'best overall student in Geography'. I then proceeded to enjoy the rest of my summer travelling around Europe.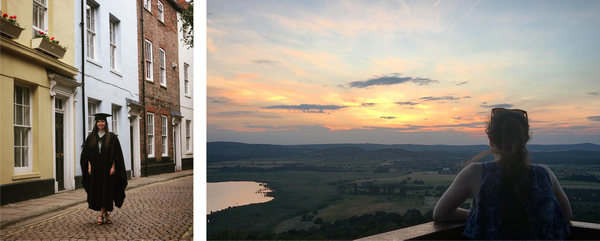 Photo: Graduation day in Hull and looking over the Hungarian landscape on my travels around Europe.
Undergrad to Postgrad
September came, and before I knew it, I was buried under a mountain of university work. I had begun my Masters in
Landscape Architecture
at
Leeds Beckett University
.
At times, it felt very overwhelming. I was working alongside fellow students who had undergraduate degrees and/or many years working in Landscape Architecture, or related subjects like Architecture. Whilst I had my Geography knowledge and experience (competencies in ArcGIS...), there were still lots of new programs to learn and understand (Photoshop, Vectorworks, CorelDraw, SketchUp, Globalmapper...) and a new culture of working to get used to. The main similarity with my Geography degree is the opportunity to travel around and see many new places - field trips and site visits have included Amsterdam, Lake District, Liverpool, Leeds and Hull. The value of learning out of the studio or office should never be underestimated.

Photo: MA Landscape Architecture field trip to Amsterdam and model making in the studio at Leeds Beckett.
My first step on the career ladder
In November 2018, I was welcomed into the
2B team
. Working in the 'real world' alongside completing theoretical academic work was a priceless experience. I learnt so much. As my first career job, there was a lot to learn - from actual landscape architecture work, to office etiquette, and how the computer filing system works. As it is a small company (only four of us), I even learnt coding for the website and I started up, and manage, the
2B Instagram account
. I also attended many conferences and sat in meetings for the first time.

Photo: 2B team - Bill, Cara, Amanda, Elizabeth - wearing our #chooselandscape tshirts.
2019 - Stepping into the New Year
The new year came and I began to feel more settled into my course and job. I have developed a better understanding of what Landscape Architects actually do – even today, the breadth of our work still amazes me. Some of the projects I have been involved in have ranged from: doing the graphics and visualisations for a public enquiry; writing my first 'real life'
Landscape and Visual Appraisal (LVA)
; hand-sketching and drawing up onto CAD for
masterplan-
level design and a wide variety of types of
visuals
. I have also been lucky enough to incorporate some of my personal interests, in photography and filming, into my work. Recently, I flew my drone to get aerial shots of the aftermath of a flood event at our office.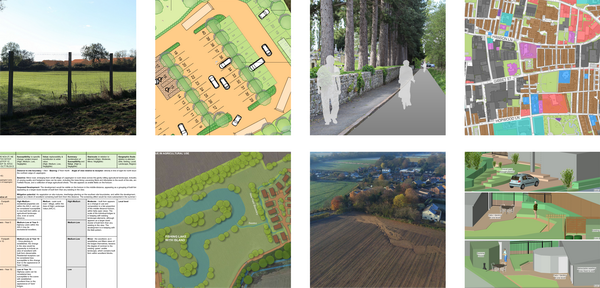 Photo: Work I have been invovled in at 2B Landscape Consultancy.
Me, busy?
Despite my already hefty workload, I decided my life wasn't busy enough. I volunteered to be the student rep on the
Landscape Institute
's
Yorkshire and Humber Branch
. Then, to further add to my hectic life, I thought I would take advantage of my last year being a student, by putting my name forward for the student member role on the
Landscape Institute's Advisory Council
. Successful in the voting, I was awarded this position in July. Since then, I have attended and contributed to two Advisory Council meetings, learnt so much about the Landscape Institute and met so many inspirational professionals.

Photo: Landscape Institute Advisory Council meetings in July and November.
Summer 2019 - Where did my free time go?
Summer 2019 was very different to summer 2018. Instead of travelling around Europe and enjoying the British summer weather at home, I was instead stuck indoors working to early hours of the morning, completing my Masters. I really underestimated the quantity of work and the time it takes to do the 'little jobs'. But I got through it, and was rewarded for my hard work with a Distinction in my Masters. I would never have thought, when I completed my Geography undergrad, that just a year on, I would have been able to produce the scope of work (visuals and portfolio) that I achieved.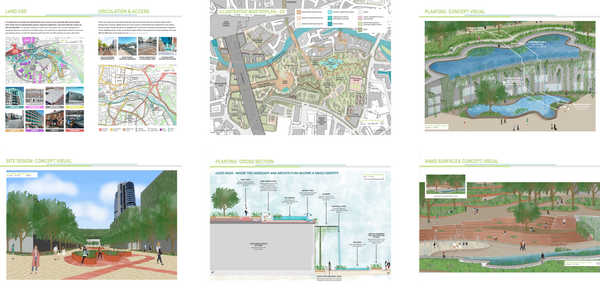 Photo: Some of my work from a Masters degree.
Today
Fast forward to December 2019. I am now working four days a week at
2B
whilst completing my
Postgrad Diploma in Landscape Architecture
(part-time) at
Leeds Beckett
. Whilst I have an undergrad degree in Geography and a postgrad Masters in Landscape Architecture, to go onto the Pathway to become a
Chartered Member
of the Landscape Institute (LI), I have to complete the PG Dip to make it a fully-accredited qualification with the LI. I like to call it my Masters 'top-up'. I am probably the busiest I have ever been, fitting in my uni project work in the evenings and the weekends. But I know, in the long run, all this hard work will be worth it.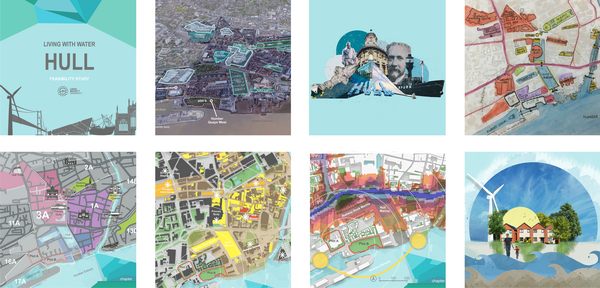 Photo: My Postgrad Diploma work so far.
Onwards and Upwards
My five years of being a university student (20 years of being in education!) may come to an end next June. But 2020, a new decade, will mark the next stage of my life and career and I am excited to see what it brings. Although I may complete the formal education stage of life next year - will I ever really stop learning?
#chooselandscape
For those of you considering Landscape Architecture as a career, there are many websites that can help you understand what the career is about. I have listed my three favourites:
Prospects
,
#chooselandscape
and
The Landscape Institute
. Also check out our website,
2B Landscape Consultancy
, for examples of work carried out in practice. It's never too late to change career paths - you'd be surprised how many of your past experiences are relevant to the landscape profession!
If you would like to contact me about my blog or anything else, please email me on
cara@2bconsultancy.co.uk
or follow me on
LinkedIn
.
Thanks for reading!
Cara Pedley,
BA (Hons), MA