Congratulations are due to our clients 'Sun and Soil Ltd' upon receiving planning approval for their 5MW solar farm near Rocester in Staffordshire.
2B produced the Landscape and Visual Impact Appraisal (LVIA) for the project, in accordance with current Best Practice Guidelines (GLVIA3, 2013). As key landscape and visual receptors were identified, and the degree of effects upon them were assessed, the process of producing of the LVIA informed the developers about issues of site design and planning.
Visualisation
The following image is the 3-dimensional model used to inform the photomontages and other visualisations.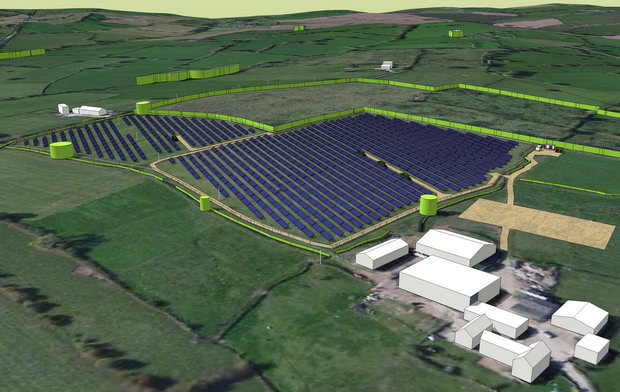 Image: Solar Farm 3D terrain / context model
The visualisations are essential to provide evidence within the LVIA on the effects from specific viewpoints.
We are delighted
our LVIA
contributed to the application documents, which enabled Sun and Soil to obtain the permission. This will allow them to complete the solar farm within the required timescale to obtain a Feed-in Tariff (FIT) on the site.
The next stage will be a detailed hedgerow enhancement and management plan, to maximise screening potential. We are proud that this new farm will bring 2B Landscape Consultancy's total contribution to consented solar farm energy on suitable sites to 27MW.
The end of solar?
It is, however, of great concern, that the government announced the removal of 87% of the FIT in a single cut, earlier this year. Phasing out the FIT over a sensible period would have allowed the solar industry to adjust and develop; but the "greenest government ever" has effectively killed off much of the renewables industry with a series of regulations and ministerial statements, issued in quick succession after the election.
As climate change increasingly hits our environment, society and economy, we will look back on these short-term, anti-environmental policies with profound regret.
We act in haste, we - and more likely our children - will repent at leisure...
By
Bill Blackledge CMLI
member of LI Technical Committee